Buyers are turning to the new-home market to find more housing options. Read more about the outlook for home sales from NAR's latest report.
The spring homebuying season is off to a slow start as shoppers find limited options on the market. Pending home sales fell 5.2% in March compared to February and were down 23% compared to last year's bustling pace, the National Association of REALTORS® reported Thursday. Three of the four major U.S. regions saw a decrease in pending home sales activity last month, excluding the South, according to NAR's Pending Home Sales Index.
"The lack of housing inventory is a major constraint to rising sales," says NAR Chief Economist Lawrence Yun. But buyer interest is still evident: "Multiple offers are still occurring on about a third of all listings, and 28% of homes are selling above list price. Limited housing supply is simply not meeting demand nationally."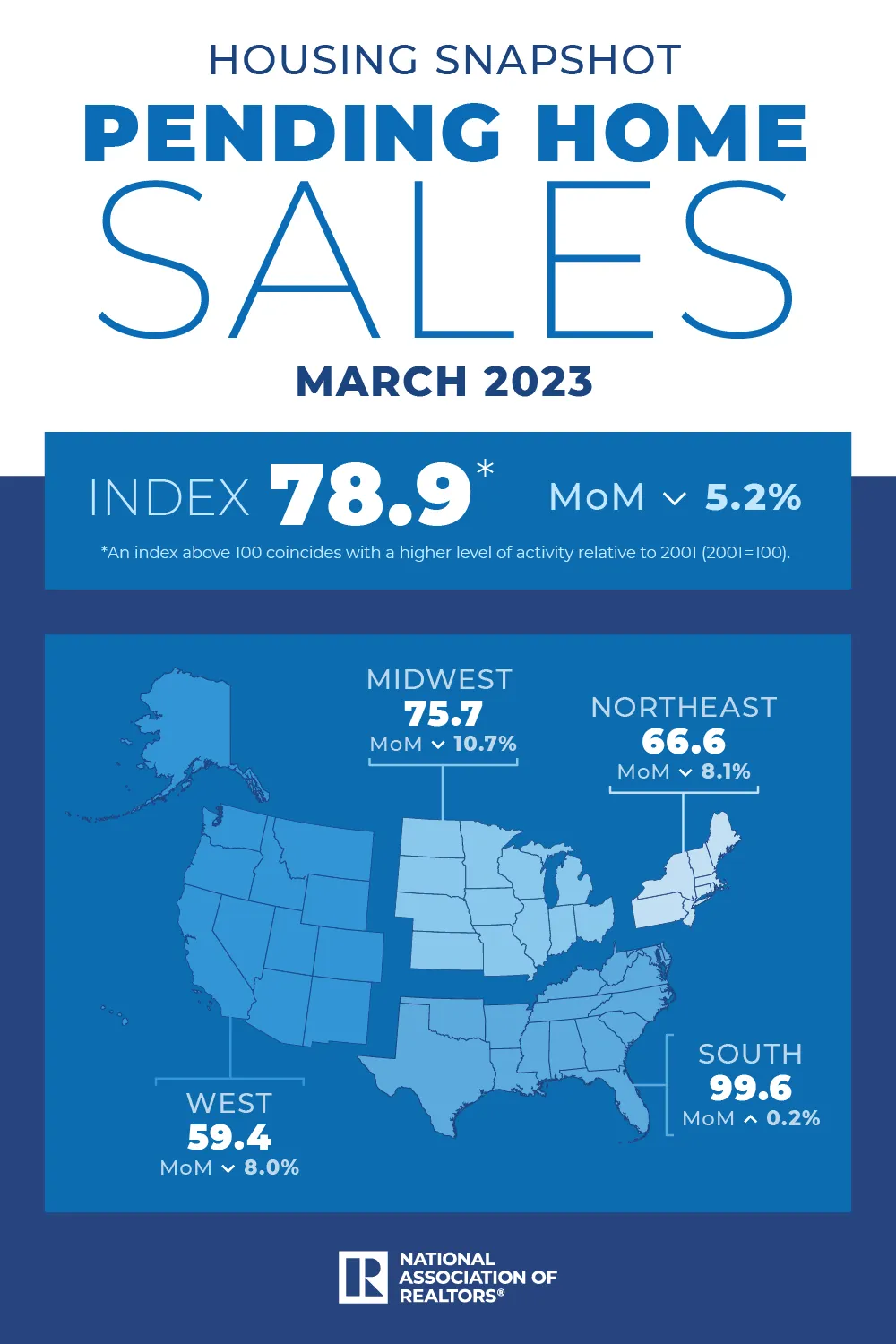 Yun says the second half of the year should fare better for the real estate market. NAR is forecasting continued job growth and declines in mortgage rates, predicting that the 30-year fixed-rate mortgage will drop to 6% this year. (Last week, the 30-year averaged 6.39%.) NAR also predicts mortgage rates will drop to 5.6% in 2024, which could bode well for home buyers who have hit affordability thresholds.
New Homes Expand Options
With limited inventory, more buyers are turning to the new-home market. Sales of newly built single-family homes rose nearly 10% last month, the Department of Housing and Urban Development and the Census Bureau reported this week. It was the strongest month for new-home sales in a year. "Sales of new homes are already matching 2019 pre-COVID activity and are expected to increase in 2023, largely due to plentiful inventory in this segment of the market," Yun says.
A lack of resale inventory, combined with builders' price incentives, helped to push new-home sales higher in March, says Alicia Huey, chairperson of the National Association of Home Builders. "However, sales are down 3.4% compared to a year ago because of the shortage of electrical transformer equipment and building material price volatility," she adds.
The median sales price for a new home increased in March to $449,800, up 3.2% compared to a year earlier. The NAHB says elevated construction costs continue to press on home prices. NAR predicts that sales for newly constructed homes will rise 4.5% in 2023 compared to last year due to greater inventory in that sector. Also, new-home sales likely will increase by another 11.9% in 2024, NAR predicts. So, it's a good time to explore a new-home niche.
Stabilizing Home Prices
Meanwhile, existing-home sales are expected to drop 9.3% in 2023 compared to 2022, according to NAR. The housing shortage is particularly affecting existing-home sales, as homeowners who locked in low mortgage rates in the last few years refuse to trade them in. However, NAR is forecasting a turnaround in existing-home sales in 2024, up 15.4%.
Nevertheless, as sales recede in the existing-home market this year, home prices likely will stabilize. The national median existing-home price is expected to drop 1.8% nationwide in 2023, reaching $379,600, according to NAR. In 2024, existing-home prices are expected to increase 2.8% to $390,000. High-priced regions like the West are forecast to see slightly lower prices, but the Midwest region—known for its affordability—will likely squeak out a positive gain in prices this year, NAR reports.
Source: NAR: Melissa Dittmann Tracey